Mayura Station Signature Series MS9+ Yakiniku Platter (1KG)
The Mayura Station Signature Series MS9+ Yakiniku Platter (1kg) includes:
250g Chuck Tail Flap
Chuck Tail Flap or Kainomi is the section of the ribs that's closest to the back is called "naka bara" (chuck short rib). Within that section, the cut of meat that's closest to the tenderloin is known as "kainomi". It has the umami and tenderness of both ribs and tenderloin. As only a small yield can be produced per cow, this is a rare cut that has an excellent flavor balance between lean meat and fat.
It is very tender, so it is best to cook it to medium rare or rare enough that it doesn't lose its tenderness. It can be enjoyed with any type of condiment, such as sweet sauce, soy sauce with wasabi, and salt and pepper.
Cut to 4-5mm thick slices.
250g Flap Meat
Flap meat or Harami is composed of the transverse abdominal muscle located near the diaphragm (skirt). Since it is close to the skirt, it has lots of umami. Also considered a very rare cut of meat for yakiniku due to its low yield.
To enjoy its tenderness, have it rare. Lightly sear the meat over hig heat and eat it as soon as the surface becomes crispy. A simple combination of soy sauce and wasabi will bring out the flavor out to the fullest, but a sweet sauce will make it taste delicious as well.
Cut to 4-5mm thick slices.
250g Oyster Blade
Oysterblade or Misuji in Japanese is located behind the shoulder blades. It is a rare cut, with a low yield per cow, and its rich umami (Japanese savory taste) is best enjoyed through yakiniku. However, it is also frequently served in other forms like sashimi.
The most recommended level of doneness for this cut is medium rare. Cooking the meat over high heat to thoroughly melt the fat will bring out its full umami, which otherwise would be lost if the fat remained uncooked. The intense flavor of the meat pairs well with sweet sauces and rich, thick sauces.
Cut to 4-5mm thick slices.
250g Tri Tip
Tri Tip is a triangular cut of beef from the bottom sirloin subprimal cut. Sharing the well marbled and tender characteristic of a sirloin steak.
Due to its heavy marbling and melts in your mouth texture ,tri tip is a very sought after cut for yakiniku
Cut to 4-5mm thick slices.
Mayura Station
First established in 1845, Mayura Station is one of Australia's oldest and most respected pastoral operations.
Mayura's full-blood Wagyu cattle were imported into Australia in 1997 and just like thoroughbred horses, the herd's ancestry, bloodlines and pedigree are a major distinguishing factor in the quality of our 100% Full-blood Wagyu Beef.
Mayura Station is located in the Limestone Coast of South Australia, in the heart of some of the best farming country in Australia. This pristine environment is ideal for producing the ultimate quality, award-winning Wagyu beef.
The location of Mayura Station boasts rich, rolling hills and healthy, fertile soils as well as a moderate climate, sparkling clean water and reliable rainfall.
Awards
2001 South Australian Meat Industry Awards for Excellence
2010 Gold Medal winner at the national delicious. Produce Awards
2012 Gold Medal at the Australian Wagyu Association Branded Beef Awards
2014 Medallist at the national delicious. Produce Awards
2014 Gold Medal at the Australian Wagyu Association Branded Beef Awards
2017 Gold Medallist at the national delicious. Produce Awards
2018 National Best Steak Restaurant at Restaurant & Caterers Awards for Excellence
2018 Gold Medal at the Australian Wagyu Association Branded Beef Awards
2019 SA Tourism Award Winner for Restaurant & Catering Services
2019 Grand Champion of Wagyu Brand at the Australian Wagyu Association Branded Beef Awards
2019 Gold Medallist at the national delicious. Produce Awards
2009 Gold Medal at the national Vogue Produce Awards
2012 Gold Medal winner at the national delicious. Produce Awards
2013 Gold Medal at the Australian Wagyu Association Branded Beef Awards
2014 Best Steak Restaurant at SA Restaurant & Caterers Awards for Excellence
2016 SA Tourism Award Winner for Restaurant & Catering Services
2017 SA Tourism Award Winner for Restaurant & Catering Services
2018 Trophy winner at the national delicious. Produce Awards
2019 Bronze Medal for National Best Tourism Restaurant at Restaurant & Caterers Awards for Excellence
2019 Champion of Full Blood Wagyu at the Australian Wagyu Association Branded Beef A
28 in stock
Description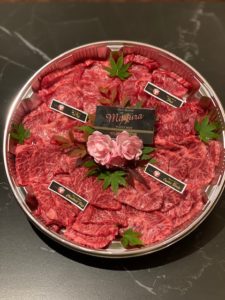 Additional information
| | |
| --- | --- |
| Weight | 1.0 kg |
| Dimensions | 31 × 31 × 5 cm |